Early Hopedale Community Walking/Bike Tour
Hopedale, Massachusetts
The Walking Tour was developed with a grant to Friends of Adin Ballou
from the John H. Chafee Blackstone River Valley National Heritage Corridor Commission.
"... bringing the Kingdom of God to earth"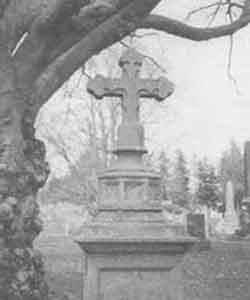 This tour will follow the paths where the Practical Christians, who lived here 150 years ago, sharing their work, worship and wealth. Their model of a peaceful, caring community still offers us an alternative to today's violence and greed.
Most of what is known today about the Hopedale Community comes from the writings of Adin Ballou. He was the constitution-maker, the newspaper editor, and the journal keeper of the community. Other charming reminiscences show the community from the women and children's point of view. Progressive Hopedale believed in equality of the sexes, equal voice and votes for women and universal education for children.
Walking Tour Sites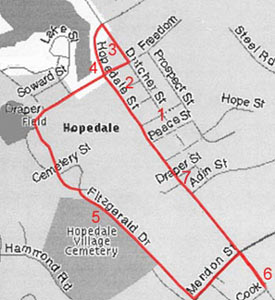 1
ADIN BALLOU PARK
statue and original site of Ballou home
.2 mi
2
COMMUNITY SQUARE
site of former school / meeting house
.3 mi
3
ADIN BALLOU HOUSE
current site of Ballou home
.5 mi
4
THE LITTLE RED SHOP
one of the early Community shops
1.2 mi
5
HOPEDALE VILLAGE CEMETERY
burial site of community members
1.8 mi
6
NELSON'S GROVE
site of the annual Abolitionist picnic / gathering
2.2 mi
7
CURRENT TOWN CENTER
Unitarian Church
Town Hall
Bancroft Memorial Library
repository of the Early Community newspaper plus artifacts and writings of Adin Ballou
The World Outside Hopedale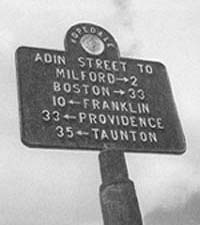 When Adin Ballou was born in 1803, the U.S. was expanding rapidly. Thomas Jefferson was president and there were 5 million people in the country. In 1890 when Mr. Ballou died, 21 presidents later, there were 63 million people.
In America the "Second Great Awakening" in the first decades of the 19th century brought religious revival and spiritual reforms to the country at large. New denominations like the Baptists, Methodists and Unitarians challenged the established Congregational church and puritan traditions. Reform was in the air: temperance in drink, anti-smoking, Sabbath day observance, women's rights, universal education for children and abolition of slavery -- all were voiced at meetings and rallies.
Ideas were bubbling over. In Europe Robert Owen and Charles Fourier advocated new types of communal property experiments to counteract the growing gap between rich capitalists and poor laborers.
Social experimentation too was widespread, as groups formed to bring about their version of heaven on earth. In Concord, Emerson and friends were promoting a God-man relationship that transcended matter, and began experimenting at Brook Farm (1841-1846). Across the country as well as in Northampton, Shirley, and Harvard, Massachusetts, other communes sprang up.
Conspicuously absent from the lists of well-known "utopian" experiments and great American thinkers of the time are the Hopedale Community of Practical Christians (1841-1856), and Adin Ballou, the social philosopher, whose writings on nonviolence, practical Christianity and socialism, speak to us and our condition today even more than they did in the 1850s.
Site 1: Adin Ballou Memorial Park, Peace Street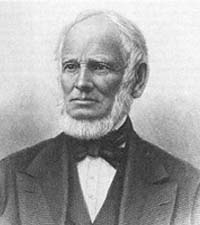 Who was Adin Ballou?
"Adin Ballou is the major theorist of nonviolence before Tolstoy and Gandhi. Ballou's work was known to both of them, and particularly important to Tolstoy."

Michael True, To Construct Peace

"For those who knew Mr. Ballou for many years this piece of land has associations not possessed by any other spot in town. Here he lived for nearly half a century; many of us remember his venerable form at the well known seat at his desk in the south window, or possibly occupied in outdoor pursuits, and his genial smile which met us in passing. Every tree upon the premises was planted by his hands."
Frank Dutcher, unveiling of Adin Ballou statue (1900)

"At twelve I was baptized by immersion. At eighteen I had an extensive spiritual vision, in which I understood myself to be called imperatively by God to preach the gospel. To this I finally yielded, much against my own will and cherished worldly plans; preaching my first discourse, with no human training, at the age of eighteen years and three months."
Adin Ballou, Autobiography

"Mr. Ballou was a born orator and debater. On the platform his inspiration was sufficient to move his hearers to applause and tears."
Lewis G. Wilson, "Hopedale and Its Founder", N.E Magazine, April 1891

"I committed myself to total abstinence from all war, preparations for war, glorifications of war, commemorations of war and... any resorts whatsoever to deadly force against my fellow-men. I would neither fight, vote, pray for, nor give any approval of any custom, practice or act which contravened the law of perfect love toward God, toward my fellow moral agents or the universal highest good. I would have no deadly weapon on my person or in my habitation Thus I was an unmistakable peace man from the crown of my head to the soles of my feet."
Adin Ballou, Autobiography (His own funeral sermon)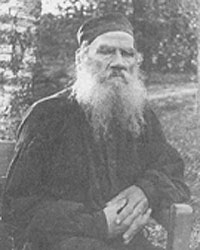 Count Leo Tolstoy (1828-1910)
"Another champion of non-resistance to evil, the American Adin Ballou... lived in Hopedale, Massachusetts In the course of fifty years, Ballou wrote and edited books dealing mainly with the question of non-resistance to evil. In these works, which are beautiful in their lucidity of thought and eloquence of expression, the question is discussed from every possible side. "I wrote to Ballou, and he answered me and sent me his writings. Here are a few extracts:

Jesus forbids me to resist evil-doers by taking eye for eye, tooth for tooth, blood for blood, and life for life.

Non-resistance alone makes it possible to tear the evil out by the root. To offend another, because he offended us... means to repeat an evil deed ... to encourage the very demon whom we claim we wish to expel. Satan cannot be driven out by Satan, untruth cannot be cleansed by untruth, and evil cannot be vanquished by evil.

True non-resistance is the one true resistance to evil. It kills and finally destroys the evil sentiment.

"Ballou died in August, 1890, and his obituary ... says that Ballou was a spiritual guide of a community; that he delivered between eight and nine thousand sermons; married one thousand pairs; and wrote about five hundred articles... but not a word is said about the aim to which he devoted all his life -- the word "non-resistance" is not even used."

Leo Tolstoy, The Kingdom of God is Within You
Community Life - The Beginning
Few structures from the early days remain. We are left the sites, words and a few photos of those in search of a "more excellent way."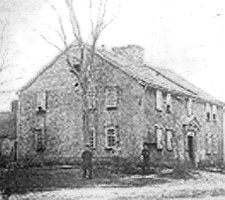 The original Jones Farm or "Old House" was located near Union Street
in the rear of the Draper Factory.
"We have now on the Hopedale estate forty-four persons, all boarded in one general family; ten men, twelve women, and twenty-two children under fifteen years of age. We have 13 cows, 4 yokes of oxen and steers, 2 horses and 6 swine. We have planted with garden vegetables for market and our own use some 3 acres, with Indian corn 4 or more, and with potatoes and beans 10 or more; in all from 17 to 20 acres.

We have made numerous repairs in and upon our old buildings; erected a new one 32 by 14 feet... The brethren have just commenced a dam and the foundation of a mechanic shop, to be 30 by 40 feet in size, two stories high... designed for various machines to be operated by water power. Our business is multiform and arduous. There is everything to do and small means with which to operate. We print the Practical Christian every fortnight.

Regular meetings for religious instruction and worship are kept up in our own house twice on Sunday, and a conference for social prayer, praise, and exhortation on Thursday evenings. These meetings are free for all our neighbors and friends to attend who choose. They are also free for all the attendants to speak as they feel impressed with a sense of duty."

"Community Affairs," Practical Christian, June 11, 1842.

"A few of us had enjoyed personal, social, educational and domestic advantages ... but the larger number had lived and moved on a humbler level. There was naturally a diversity of manners, habits and tastes, in addition to the personal peculiarities of each... Yet we were all domiciled under one roof, lived as one family, stocked a common larder, spread and sat at a common table, organized common activities and constituted to all intents and purposes a Community in fact as well as in name."
Adin Ballou, History of the Hopedale Community

"The members were men and women drawn together by a common interest... In addition to the vital principles of ultimate salvation for all, temperance, non-resistance, etc., each one brought some fad of his own -- a belief in Spiritualism, or the vegetable diet. Some were non-shavers, and all, I think, were non-smokers. The fads were often discussed in public and made these meetings a 'continuous performance' of vast entertainment."
Sarah E. Bradbury, Hopedale Reminiscences


Lucy Hunt Ballou
(1811-1891)


"Meanwhile my wife, in her own quiet unpretentious way, led off in the management of domestic affairs, with good Anna T. Draper for her faithful, right hand coadjutor, bringing order out of chaos. And when disquietudes and bickerings at length arose, it was the men and not the women who first proved weak."

Adin Ballou, History of the Hopedale Community
The Declaration of Faith
Only adults 18 years of age could join the voluntary association.
No person shall be a member of this Community who does not deliberately and cordially assent to this Declaration.

I believe in the religion of Jesus Christ, as he taught and exemplified it, according to the Scriptures of the New Testament. I acknowledge myself a bounden subject of all its moral obligations. Especially do I hold myself bound by all its holy requirements:

- never, under any pretext whatsoever, to kill, assault, beat, torture, enslave, rob, oppress, persecute, defraud; corrupt, slander, revile, injure, envy or hate any human being -- even my worst enemy;
- never, in any manner, to violate the dictates of pure chastity;
- never to take or administer an oath;
- never to manufacture, buy, sell, deal out, or use any intoxicating liquor as a beverage;
- never to serve in the army, navy, or militia of any nation, state, or chieftain;
- never to bring an action at law, hold office, vote, join a legal posse, petition a legislature, or ask governmental interposition, in any case involving a final authorized resort to physical violence;
- never to indulge self-will, bigotry, love of pre-eminence, covetousness, deceit, profanity, idleness, or an unruly tongue;
- never to participate in lotteries, games of chance, betting, or pernicious amusements;
- never to resent reproof, or justify myself in a known wrong;
- never to aid, abet, or approve others in any thing sinful; but, through divine assistance, always to recommend and promote, with my entire influence, the holiness and happiness of all mankind.
Female Liberation in Hopedale
"I am happy to feel that in the little Commonwealth where I live, all persons have equal rights, in public deliberations. Men and women are alike recognized as having a common interest in public officers and public measures. Hence our annual meetings and elections are quiet and orderly, the business is soon despatched ... and I have never, in the small State of Hopedale, heard of one home being neglected, or one duty less thoroughly attended to by allowing women an equal voice."
Abby H. Price, address to Woman's Rights Convention at Worcester, Oct. 23, 1850

"Reform extended to dress and many women became wearers of the Bloomer costume, a short skirt reaching to the knees with long trousers like the dress. The abbreviated skirts were convenient about the house, but some wore them abroad ... and were victims of ridicule and amusement in the neighboring towns."
Anna Thwing Field, Hopedale Reminiscences

"At one time twenty-five women, all clad in bloomers, went in a barge to Worcester, to attend a Women's Rights' Convention. They attracted so much attention that the police were called upon to protect them."
Ida D. Smith, Hopedale Reminiscences
Site 2: Community Square, Chapel Street
The Schoolhouse/Chapel built in 1843 stood here in the "Community Square" overlooking the pond. It was the spiritual and intellectual center of village life.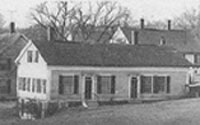 School / Chapel
"In 1844 ... the School and Chapel building was completed, having one large room and the two ante-rooms on the main floor with a basement suitable for a small store... . and soon after the room below was stocked with groceries and dry goods for the common convenience by the Community authorities."
Adin Ballou, History of the Hopedale Community

Frank Dutcher
(1850-1930)

"The only public building was the Chapel. This Chapel was used for all gatherings, religious or secular, and on week days was occupied by the Public School. It had a small bell tower at the end next to the street ... The bell was used for both School and Church."

Frank Dutcher, Hopedale Reminiscences


"Willie" Draper
(1842-1910)

"All children and youth under eighteen years of age connected with this Community shall be considered pupils, and after leaving the nursery shall be regularly instructed in the useful arts and sciences four hours per day through the year except on Saturdays and Sundays, and excepting also vacations of one week in each quarter... The older pupils shall receive instruction wholly in the forenoon or in the afternoon so as to be regularly employed without interruption during the remaining half day in the industrial organization. It shall also be the duty of the teachers carefully to supervise the morals of the children and youth under their instruction."
Passed in regular meeting at Hopedale, Dec. 17, 1844

"Our Mrs. Abbie was a Normal graduate, handsome and loving, with insight, originality and personal power, the ideal teacher. She anticipated so-called modern methods. We were proud of the really remarkable maps with meridians and parallels that we used to put on the board from memory. Our school was known among reformers. A son of Garrison and of Samuel J. May were sent to Hopedale to attend it. Rev. Wm. Fish once said that Mrs. Abbie was, he believed, the best teacher he ever had."
Ellen M. Patrick, Hopedale Reminiscences

"Children had many amusements, simple but enjoyable; among them occasional rides in the large and only boat on the pond; skating and coasting in winter; berrying and picnics in summer; hanging May baskets all through the month; and hunting wild flowers in the field. After a time dancing was allowed for adults and children... hours for dancing from 6 to 9:30 P.M. ... Square and Contra dances, only, were allowed. Hopedale was a music loving community."
Nellie T. Gifford, Hopedale Reminiscences
Site 3: The Ballou House, 64 Dutcher Street
The Ballou House is a typical example of Community architecture. It was moved in 1900 to make way for the Adin Ballou statue. At that time the porch was added. The el in the rear of the original building housed the Community print shop where the Practical Christian, the Hopedale Community newspaper, was printed.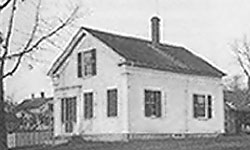 The Ballou House
(Built 1843 - Moved 1900)
"My parents, much worn and weary with their experiences in the Old House, decided to build a home of their own, to live 'under their own vine and fig tree,' and prosecute their labors for the good of mankind. They erected a cottage on Peace Street near by where now stands my father's monument. This was the third house in the village. Their labors were not much diminished, so large a number of visitors was constantly seeking a haven of rest, which they believed Hopedale Community alone could afford. Without money and without price they entertained many such inquirers for several years."
Abbie Ballou Heywood, Hopedale Reminiscences

"In his work at Hopedale and elsewhere, Adin Ballou depended upon a great deal of support from his family, especially the women. Lucy Ballou ran the Ballou household as a free hotel for Hopedale visitors and prospective residents. She also helped to compose and edit her husband's works. The burdens she bore during the Hopedale period affected her health. She was a semi-invalid in her later years."
Peter Hughes, Dictionary of Unitarian Universalist Biography

"[Adin Augustus] was the only son of his mother and myself dwelling with us upon the shores of mortality. Upon him we had lavished the warmest affection of our hearts and built our fondest and sublimest hopes for the future. We had given him the best home training of which we were capable; we had furnished him with such opportunities for attending school as were at our command."
Adin Ballou, History of the Hopedale Community
ADIN AUGUSTUS BALLOU IS DEAD

He died at Bridgewater where he was connected with the Normal School as a teacher, on Sunday last, February 8th. He was attacked very violently with typhoid fever, of which disease he was sick only a little over a week. His mother and father were summoned to his bedside in time to be recognized by him... He lived two days after they reached him, then they returned home with his remains... What a terrible blow it must be to his father and mother! ... They are bowed in sorrow as never before.

Wm. H. Fish, Practical Christian, Feb. 1852
Site 4: The Shop, corner of Freedom and Hopedale Street
The Shop: Capitalism vs. Socialism
Shortly after his son's death in 1852, Adin Ballou resigned the presidency of the Community. He had served for 11 years. Now his closest business advisor, Ebenezer Draper, assumed the leadership. His younger brother, George Draper, arrived at Hopedale in 1853.

Ballou published in 1854 Practical Christian Socialism, a summation of his theology applied to community and personal practice. The spiritual superiority of community living compared to separate individual pursuits was the theme. Optimism for the community's future peaked.

"The time has arrived when Christian Socialism must be proclaimed and insisted on. The great flaw in existing society was that it encouraged each person to believe that he could use his property simply for his own gratification and aggrandizement regardless of how it affected the welfare of others. The general solution was to establish the social principle that all persons held their property only as 'stewards in trust, under God,' with an unqualified obligation to use whatever was not required by their own basic needs for the improvement and happiness of other members of the human race."

Edward Spann, Hopedale: from Commune to Company Town
quoting Adin Ballou in 1849 and 1850


"One member of the old community, Harriet N. Greene, declared that the people of the village were indeed a rather peculiar people, peculiar in that they disavowed violence in any form and opened their doors to the fugitive slave; peculiar too in that there was no poverty, unemployment, drunkenness, or wasted lives in their midst."

Edward Spann, Hopedale: from Commune to Company Town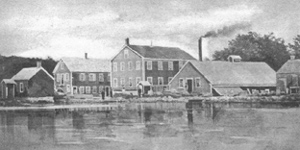 Original Community Shops
The Demise of the Community
"Fraternity of property was the keystone of our social arch. When that fell out, the arch crumbled. These favored brethren commanded that keystone. It was in their power to preserve or to demolish the structure And if they fell away from a high Christian standard which they had professed to revere, they did so under very seductive and powerful temptations."
Lewis G. Wilson, "Hopedale and Its Founder", quoting Adin Ballou

"The Community had been running seriously behindhand in its industrial departments... Failing to discover where the fault was, it was natural and easy to attribute it to the system and this was the accusation... the lead was taken by George Draper... who had been with us but a short time. He was a man thoroughly honest in his opinions, upright in his dealings... A man, however, of inflexible will, and one not to be turned from his purpose. Hence, when he came to feel that our socialistic undertaking was financially impracticable, that it stood in the way of his success as a business man of the world, and that it therefore must be abandoned... all his energies were directed to the accomplishment of that result. It was his first concern... to win his brother (Ebenezer) to his own way of thinking and secure his co-operation in withdrawing their joint capital from the Community treasury. It was some time before he succeeded in doing this, but at length by argument and appeal urged with unrelenting persistency, his point was gained, and... the destiny of the Community was sealed. The two owned three-fourths of its Joint-Stock."
Adin Ballou, History of the Hopedale Community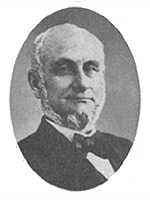 George Draper (1817-1887)>

"As soon as I learned that these two men had decided to take the position indicated... a deathlike chill settled upon and almost froze my heart. What I then and for months afterward suffered of disappointment, mortification, and grief, it would be ... difficult and useless to describe.
So that on the first of April, 1856, the new industrial and economical system in our village was fully established, and the Hopedale Community, as a type of a regenerated form of human society, and an attempt to realize the Kingdom of God on earth, for which so many of us had prayed and toiled and sacrificed for so many years, had become a thing of the past. Its glory had departed; its sun had set forever."
Adin Ballou, History of the Hopedale Community
Site 5: The Cemetery, Fitzgerald Drive
The Cemetery: The Great Equalizer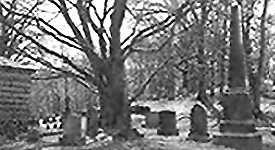 The cemetery's driveway is off route 16 about 50 feet toward Mendon from where Fitzgerald Drive leaves route 16. The cemetery may be entered from Fitzgerald Drive on foot.
Look for a dark gray obelisk near a large white mausoleum in the middle of the cemetery not far from the road. The Ballou obelisk aligns with the front door of the Unitarian Church where he was pastor in later life. The Community leaders -- the Ballous, the Drapers, the Bancrofts and the Dutchers -- are here laid to rest side by side within speaking distance of each other. Does the debate still go on?
"The only road to the cemetery was a rough cart path through a succession of pastures; and in case of a funeral, it was necessary to pass through several pairs of bars. There were no good sidewalks."
Frank Dutcher, Hopedale Reminiscences
George Draper (1887)
"Another death... was that of Mr. George Draper, a sometime member of the Community, who, though abandoning it and renouncing its essential principles, yet always held its founder in high regard and veneration... On the 11th of June his funeral was solemnized with every demonstration that bereaved family affection and public grief could bestow. Thousands appreciated his merits, sympathized in a great public loss, and united in reverential tributes to his memory. On the occasion the eulogy proper was pronounced by the old pastor of the departed, who had lived side by side with him for more than thirty years, and who could portray the strong points... of his character better than any other living person."
William S. Heywood, editor, Autobiography of Adin Ballou
Anna Thwing Draper (1870) and Ebenezer Draper (1887)
"It was only about four and a half months after the demise of George Draper, that his elder brother, Ebenezer D., followed him to the world of spirits. It was while engaged in the ministry at Mendon that Mr. (Ebenezer) Draper and his then newly married wife, Anna (Thwing) Draper, a most excellent woman, became religiously interested in Mr. Ballou's preaching, and, though living in Uxbridge, united with his church. They embraced his teachings with a full heart, and followed him even to the extent of Non-Resistance and Social Reconstruction. They were among the first to subscribe to the Hopedale 'Declaration of Principles.'

In fact, Mr. Draper may be regarded as the most important factor, next to Mr. Ballou, in that enterprise. (When) the end had come ... the right hand man and trusted counselor of Community times was brought back to Hopedale, beside the sleeping dust of his first betrothed, who, for a generation had filled his home with music and sunshine, and rendered it attractive and delightful to hosts of appreciative friends by her blessed presence there."

William S. Heywood, editor, Autobiography of Adin Ballou
Adin Ballou (1890)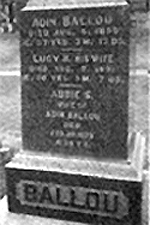 "I can sincerely say that in my moral and spiritual nature I owe more to Mr. Ballou than to all the ministers and men with whom I have ever come in contact."
Rev. Charles H. Eaton, D.D. (adopted son of Ebenezer Draper)

"I read in the papers here (in Europe) of the death of Mr. Ballou. Notwithstanding his extreme age, the news came like a shock to me. I admired and respected -- nay, revered him more than any other man I ever met. To me he combined a perfectly blameless life with the most extraordinary reasoning powers. I feel that he has done much to develop the best that there is in me."
Gen. William F. Draper (son of George Draper)

"It was always remarkable to me to see a man of such grand strength of brain, and also of feeling... always have perfect self control, and never to be, or seem to be, anything except a strong, just, good man. Knowing what a tremendous disappointment the seeming failure of his idea must have been to him, I was much impressed with the fact that he had not allowed it in any way to embitter his life, or to prejudice his judgment of men and things."
Eben S. Draper (son of George Draper), unveiling of Adin Ballou statue (1900)
Site 6: Nelson's Grove
187 Hopedale Street (corner of Cook and Hopedale)
The Abolitionist Picnic Site
The Abolitionist Gathering Site at Nelson's Grove stretched from the open field (now the Catholic Church parking lot) down to the Mill River at the bottom of Nelson Street. Next door at 155 Hopedale St. is an original Community house that may have been used to house "anonymous" visitors. (On the return to town center, notice the other old homes that line Hopedale Street, a few from the early Community days.)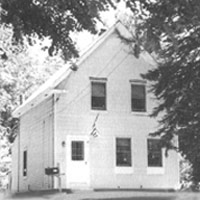 Community House
"It was our custom at Hopedale, as radical Abolitionists, to celebrate from year to year the Anniversary of the Emancipation of 800,000 slaves in the British West Indies. This was done in a pleasant grove near the southerly borders of our domain, half a mile from the central part of our village."
Adin Ballou, History of the Hopedale Community

"Annually in August, in a small, pine grove... Hopedale had an Anti-Slavery meeting. I remember many earnest men and women who spoke from that platform. William Lloyd Garrison was always present. Frederick Douglas, a colored man who was an escaped slave, was an interesting speaker. I well remember the black, black man of large stature who was called Henry Box Brown. He was a slave and had come all the way from the South, sent by friends in a dry goods box with holes in the cover, and labeled, 'This side up. With care.'
Many escaped slaves lived in the families of Hopedale. My father had a colored man called John who did some work about the place, but never went alone from the house. Several others there were who lived among us for weeks or months. They were fed, clothed, and sheltered. We knew them and saw them moving in and out, one day here. The next gone."
Anna Thwing Field, Hopedale Reminiscences

"There was also with us a remarkable colored woman, once a slave in the State of New York, Sojourner Truth, whose impassioned utterances on the occasion were like the fiery outbursts of some ancient prophet of God lifting up his voice like a trumpet and showing the people their transgressions and the house of Jacob their sins."
Adin Ballou, History of the Hopedale Community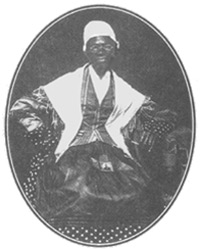 Sojourner Truth (c. 1797-1883)
The Civil War
"On the 9th of June, 1861, Brother George Draper, one of our most influential associates, sent to the recorder of the Community a letter resigning his membership, 'having become satisfied,' as he says, 'that I am not in spirit or feeling or practice or purpose a Non-resistant.' He did not denounce the principles on which Hopedale was founded... but as 'impracticable under existing circumstances.' ... Several other members shared his sentiments and followed his example... reducing our members to less than fifty persons, who remained faithful to their ideals."
Adin Ballou, Autobiography

Gen. Wm. F. Draper
(1842-1910)


"Over the next years several young men from the village fought in the war, including [George] Draper's son William, whose education in the Hopedale school did nothing to dissuade him from volunteering in September 1861... William rose rapidly through the ranks, retiring in October 1864 after being wounded... a military hero returned to the village of peace."

Edward Spann, Hopedale:
from Commune to Company Town

"The Civil War wrought a great change in Hopedale. Excitement ran high, and with some the Non-Resistant principles were overcome by the 'Spirit of 76.' ...The battlefield, the Anderson Prison Pen, and disease claimed as victims several who enlisted from Hopedale, and the peaceful life of the village was over for a time."
Nellie T. Gifford, Hopedale Reminiscences
Site 7: Current Town Center, Hopedale Street
The current town center developed after the Community was laid down. The church, town hall and the library have close associations to the early Community members.
The Unitarian Church
Adin Ballou served as pastor to the new Hopedale parish built by the Drapers until 1880.

Unitarian Church (1860-1897)
"An event of much importance in the history of Hopedale in the year 1860 was the erection of a new house of public worship ... on an eligible lot which in early Community days had been set apart for the purpose.
The parish has had no definite creed, declaration of principles, or church covenant. As a parish it professes nothing but what is said or implied in its constitution. It has always been comparatively small -- never numbering over one hundred and twenty voting members, and these entertaining a variety of divergent opinions on religious and ethical subjects... On my part, I was a sort of minister-at-large to a widespread, unorganized parish, to whom I ministered at funerals and on diverse occasions... Happily my supporters were as willing to let me preach and practice my honest convictions as they were determined to follow their own."
Adin Ballou, History of the Town of Milford
The Town Hall
At the initiation of George Draper, Hopedale separated from Milford and became an independent town in 1886. For the occasion, Draper built the Town Hall.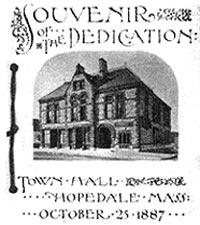 Dedication of the Town Hall, 1887
"The erection of the superstructure was approaching completion at the time of the owner's unexpected decease in June, 1887.
Appropriate dedicatory services were held in it on the 25th of October. Beautiful floral and other decorations graced the occasion, vocal and instrumental music gave it added interest, prayer was offered, formal addresses were made. The address proper was delivered by Hon. Ex-Gov. John D. Long.
Mr. Ballou sat near the eloquent speaker, and listened with attentive interest ... to the sarcastic criticism of the men and women who had toiled and suffered in the former days for truth, humanity, and God, and who by their labors, had made possible the Hopedale which was now the subject of ornate panegyric. When he arose to address the assembled company, every eye was fixed on him and every ear was eager to hear what he had to say. He knew that Ebenezer D. Draper, the elder brother of George, was president of the Community when its joint stock and unitary interests were dissolved; that he was then a much larger capitalist than his brother and wielded much greater power; that he pronounced the condition of the Community eminently harmonious and prosperous less than two months before they decided to withdraw their capital; that there was really no bankruptcy nor any ... cause for a dissolution of unitary interests, except their withdrawal of three-fourths of the joint stock; and that the plant was taken into the vigorous hands of the two brothers only to be changed into a successful manufacturing establishment managed on the principles of 'enlightened and liberal selfishness.' "
William S. Heywood, editor, Autobiography of Adin Ballou
The Bancroft Memorial Library
Joseph Bancroft joined the Community in 1847. He donated the present building to the town in 1898 in memory of his wife, Sylvia Thwing Bancroft. In the Draper era, he was responsible for worker housing and he continued many of the early community traditions.

By 1855, the Hopedale library, located in the school and chapel building, had over 600 volumes. The village was taking a total of 130 various periodicals on a regular basis, not counting the 60 papers received in exchange for the Practical Christian.

The Bancroft Library is now the primary repository of the writings of Adin Ballou and the early Hopedale Community.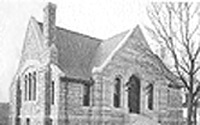 The Bancroft Memorial Library
"The Hopedale Community made a determined effort to keep itself informed of intellectual progress. In 1842, while it was still struggling to get started, the community began a small public library, one of the first in the country."

Edward Spann, Hopedale: from Commune to Company Town
Surely they hitched their wagon to a star
And though it fell to earth
It left a pathway so bright
That it still points the way to perfection.
Susan Thwing Whitney